Click here for payment by Credit Card





If you prefer to use

Click here
Vintage Synthesizer Software
---
S E Q U E N T I A L C I R C U I T S™
S o f t w a r e S u r v i v a l K i t s

Vintage Sequential Circuits™ keyboards restored by Wine Country used to develop incredibly accurate software models of classic Sequential™ synthesizers.
Click image to view larger version
Prophet™ Plus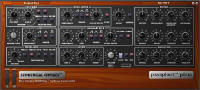 The Prophet™ Plus software includes features from the original Sequential Circuits™ Prophet-5, Prophet™-10, Prophet™ T8, Prophet™ 600, plus more.. Features like an External Audio Input, built-in effects, 3 noise sources, multiple LFO sources, MIDI syncable LFOs, a de-tunable unison-stack mode, and extensive control over velocity, aftertouch, poly mod. Oscillators A & B can also be samples (WAV or Akai files).
Prophet™ Plus Software Survival Kits from Wine Country SEQUENTIAL™.
---

Copyright © 2003, 2009, 2010, 2011, 2012 Wine Country Productions, Inc. All Rights Reserved.
Navigation Menu